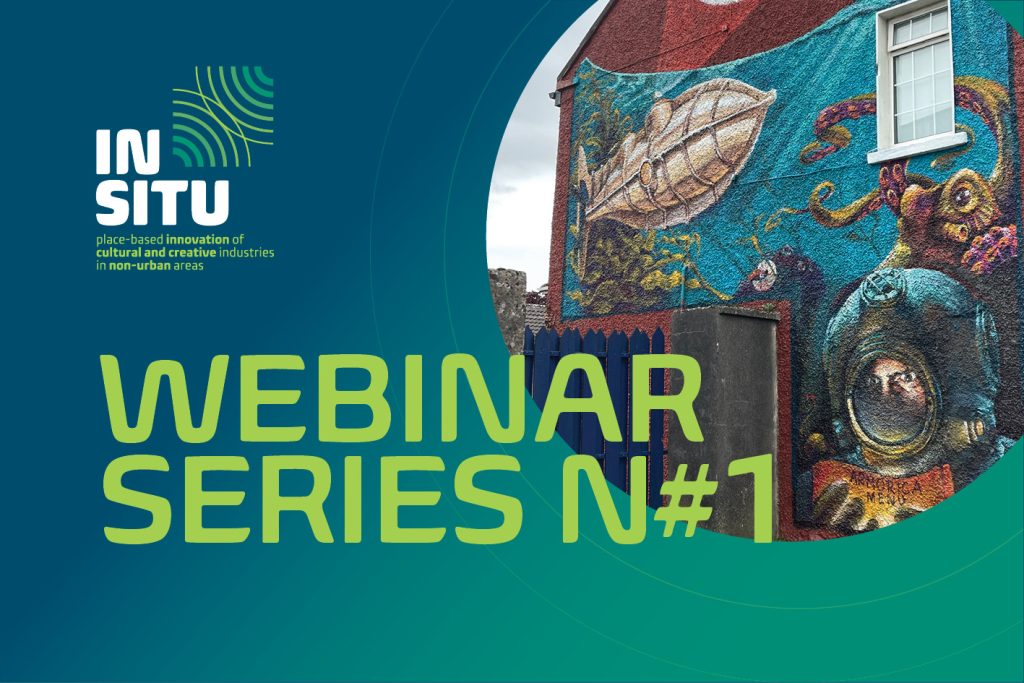 Over the next four months, the IN SITU project will present three webinars to address key themes that support the work of cultural and creative ecosystems in European non-urban areas. Together with cultural and creative organisations and initiatives, EU research projects, as well as IN SITU partners and advisors to learn from their insight and experiences, to discuss common challenges.
Save the date for webinar N#1: Thursday, September 28th, 2023 | 10:30-12:30 (CEST)
PROGRAM | What contributes to the viability of small-scale creative enterprises (CCIs) in non-urban areas?
1. Introduction | Nancy Duxbury (IN SITU project presentation & the Webinar series)
2. Presentation of webinar #1 | Hosted by Erna Kaaber (IN SITU Lab partner, Bifrost University)
Poll: What are the most pressing issues for you?
3. Introductions of the Speakers
Ralph Lister, Take Art (UK) (https://takeart.org <https://takeart.org/sparse>) – SPARSE Plus – a Creative Europe project on Supporting and Promoting Arts in Rural Settlements of Europe – https://www.sparse.eu/
Musa Htlatshwejo, Artistic Director. Mhayise Productions – Sustaining Theatre and Dance Foundation – STAND (South Africa) – https://www.standfoundation.org.za/ (IN SITU Outreach Partner)
Martha Michailidou, Panteion University, Greece – CORAL-ITN – a Marie Sklodowska Curie Innovative Training Network on collaborative workspaces in rural and peripheral areas in the EU – https://coral-itn.eu <https://coral-itn.eu/>
Ella Björn, Lapland University, Finland – SmartCulTour (Smart Cultural Tourism as a Driver of Sustainable Development of European Regions) – H2020 research project – http://www.smartcultour.eu/
Martin Gomez-Ullate, CultRural+ (More than rural. More than culture) Project co-funded by the European Erasmus+ programme – https://www.cultrural.eu
Lidia Varbanova, National Academy of Theatre and Film Arts "Kr. Sarafov" (NATFIZ), Bulgaria (IN SITU Partner) – https://natfiz.bg/en/
4. General discussion
5. Poll results: Erna Kaaber
6. International reflections from IN SITU International Advisor: Susan Luckman
7. Final comments/responses from the presenters and/or participants
8. Conclusions and next webinar(s) | Nancy Duxbury (IN SITU)
Participate: https://www.eventbrite.com/o/in-situ-culture-70717963653

Upcoming …
Webinar N#2 | How can CCI innovation ecosystems be fostered in non-urban areas? (October 2023)
Webinar N#3 | How does cultural and creative work contribute to place-based sustainability and resiliency? (December 2023)