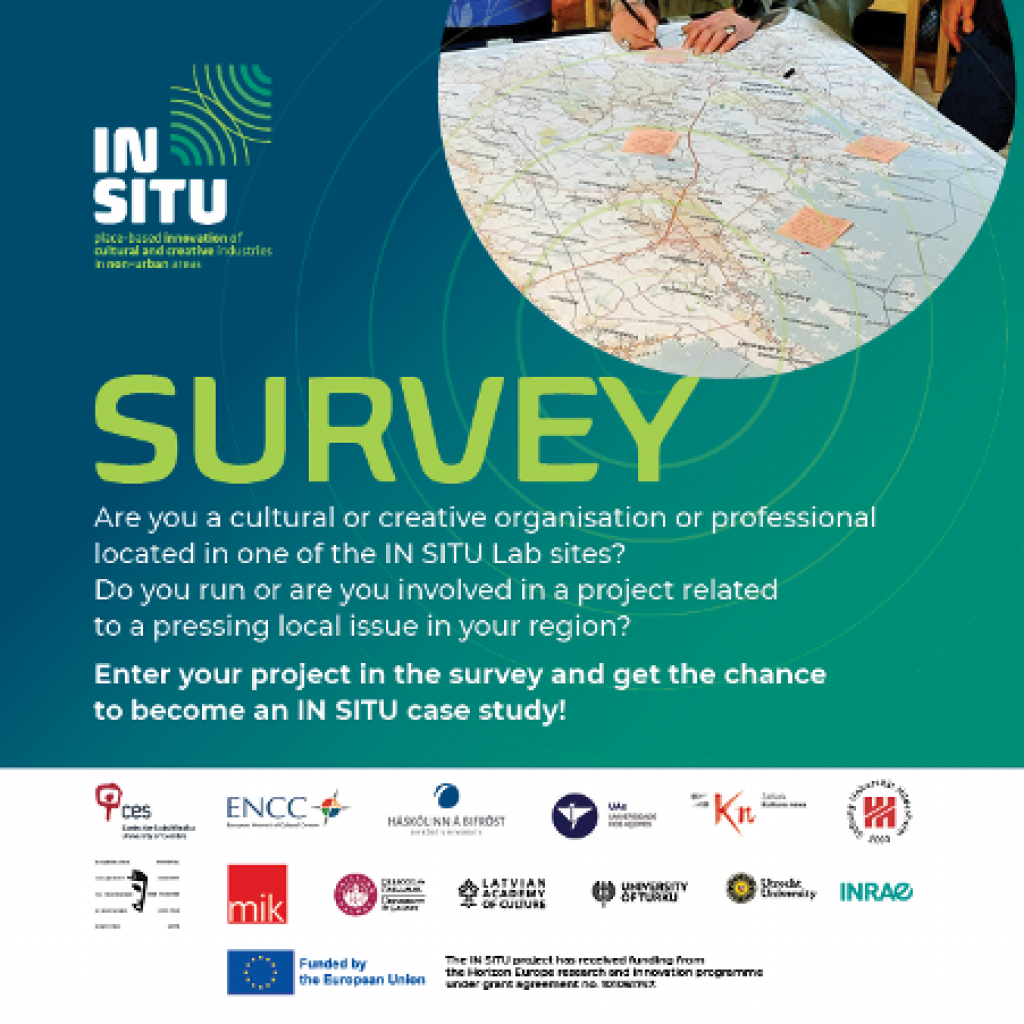 We are pleased to share with you the IN SITU survey that will be fundamental in generating impact in the Creative and Cultural Industries (CCIs) in non-urban areas in Europe for a more sustainable and inclusive future.
Through this survey, we aim to map projects proposing cultural and creative responses to key place-based issues in the six IN SITU lab locations and to identify the two most relevant, impactful and innovative projects in each Lab location, in order to become the case studies of the IN SITU project.
For each case study project, an individual or organisation will be subcontracted to provide two monitoring reports on the development of their project (value EUR 5000).
You can answer this survey if you meet the following 3 requirements:
Your cultural or creative practice is legally registered in one of the IN SITU lab locations, and
You are active in one or more cultural or creative fields, and
You run or are involved in a project that is related to one or more of the most pressing local issues in your region. Consult the FAQ document to know the place-based issues in your region.
---
Take part in the Survey: https://bit.ly/44LulId
---
IN SITU – Place-based innovation of cultural and creative industries in non-urban areas is a 48-month-long research project developed by a Consortium of 13 partners that began in July 2022. To understand how cultural and creative practices can help tackle place-based issues in six non-urban areas representing the six IN SITU Labs: Azores, Portugal; Western coastal region, Ireland; Western region, Iceland; Rauma and Eurajoki municipalities, Finland; Valmiera County, Latvia; Šibenik-Knin County, Croatia.
To learn more about the IN SITU project: https://insituculture.eu
Deadline: Friday 2 June 23h59 CET