The Art in Gort (Art Inse Guaire) project addresses the place-based issues of youth and community development, including engaging with young people in place-making, and of governance and local development that encourages democratic engagement and collaborative placemaking. The project covers the thematic strands of activating communities and intra-sectoral collaboration.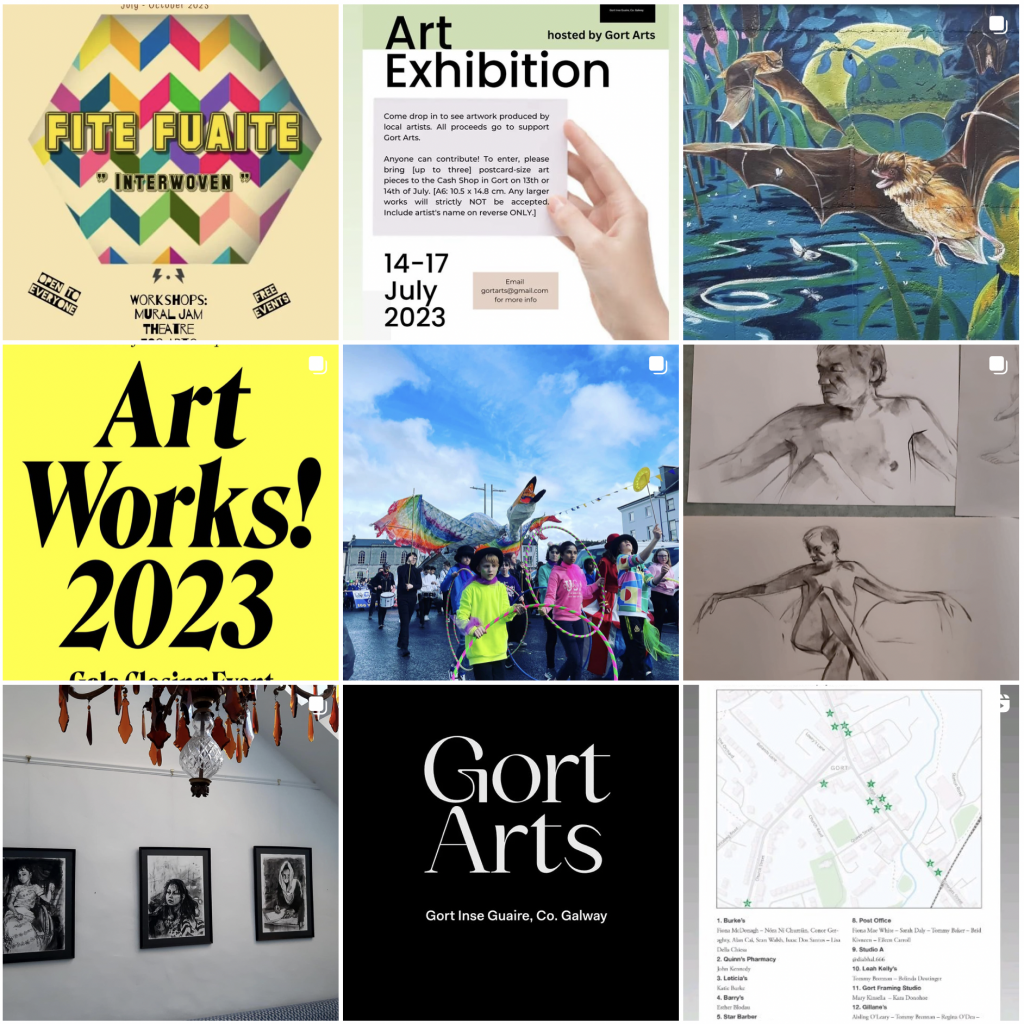 In the short term, the project aims to work with the local diverse community, especially young people in the activation of public underused spaces through festivals/actions, mural projects, workshops, and exhibitions. In the long term, the project works towards the creation of a permanent space for local creatives to channel their talents and connect with the community, hopefully to enrich the town and make Gort a more desirable place to visit and live. The project also seeks to set an organisational example with a highly transparent and directly democratic model which has proven effective and will aid future success.
As for the potential transformative effect of the project, having polled locals, looked at similar case studies, and pooling collective knowledge, the project is based on the principle that arts lead transformation. Art in Gort (Art Inse Guaire) aspires to invigorate and inspire people through art by working together and making these practices visible, while working side by side with other community members. The project understands that working with local communities is a formula for success and will be a win-win for creatives, residents, and businesses alike.
In terms of innovation potential, as artists, the case study providers think of themselves as naturally innovative. In the context of Gort and Ireland, they see the project as providing much needed leadership. On one hand this is simply by brightening up a few neglected corners, and by doing. But, on the other hand, Gort represents a unique set of circumstances with an amazingly diverse and working population, stunning architecture, well-positioned regionally, and a place to shop, but also has been left out of other regional developments, has a large number of vacancies, and is witnessing a changing population. As such, they see this as the perfect opportunity for artists to lead in its future. This context presents an ideal place for growth, creativity, and innovation. The project acknowledges the widespread creative activity in the region and hopes to foster its growth. They are bringing in new collaborations from the range of artistic knowledge of their members. Importantly, the project also actively seeks out connections to businesses in town to help with both practical support, but 'buy in' to their efforts and successes. The project also works with and maintains healthy relationships with other organisations and bodies in Gort.